Unless you've been hiding under a rock, you know Bitcoin has been doing exceedingly well over the past few weeks. The cryptocurrency has bounded past key resistance levels in the $7,000s, $8,000s, and $9,000s, surging some 50 percent higher since the bottom established in mid-December.
Although this appreciation has already blown the proverbial socks off investors across the board, a leading analyst says that Bitcoin could soon rocket even higher, drawing attention to a crucial price level the asset must maintain in the coming weeks to fuel an even greater upward thrust.
Bitcoin must hold above $9,550 into the weekly close
In the recent edition of the Decentrader newsletter, author and cryptocurrency trader Filb Filb drew attention to the $9,550 level for Bitcoin by posting the below chart, which shows that this price point has always been an inflection point for the market; when prices passed above $9,550, Bitcoin gained even more strength, and when prices failed to break this level, rallies quickly turned into bearish reversals.
With this in mind, he wrote that if Bitcoin can close the weekly candle above $9,550, which the asset is currently trading 2% above as of the time of this article's writing, it could "make its way to $11,500 quickly." This would represent a 21% rally from $9,500 should it take place.
As a brief but pertinent aside, $9,550 is interestingly especially close to the "one [level] to rule them all" pointed to by prominent cryptocurrency trader Hsaka. Per previous reports from CryptoSlate, Hsaka largely implied in a tweet that Bitcoin needs to begin to form an uptrend above the penultimate level of $9,463.5 to begin another bull trend.
As the two levels are extremely close to each other from a long-term macro perspective, it could just be that differences in prices between exchanges and small nuances in charting techniques yielded the same price region of the mid-$9,000s as key levels for Bitcoin to move across.
Filb Filb's crazy track record
Calls from Filb Filb are especially notable due to the analyst's (honestly legendary) track record.
In October of 2019, the prominent cryptocurrency trader posted the below chart to his social feeds, showing that he then expected Bitcoin to surge vertically towards $10,000, abruptly reverse and drop to the $7,000s, bottom in the low-$6,000s in December, then surge back towards $10,000 in early 2020.
What's crazy is that Bitcoin trended almost exactly as Filb Filb forecasted, with BTC seeing the now-infamous "China pump" at the end of October before bottoming at $6,400 in December.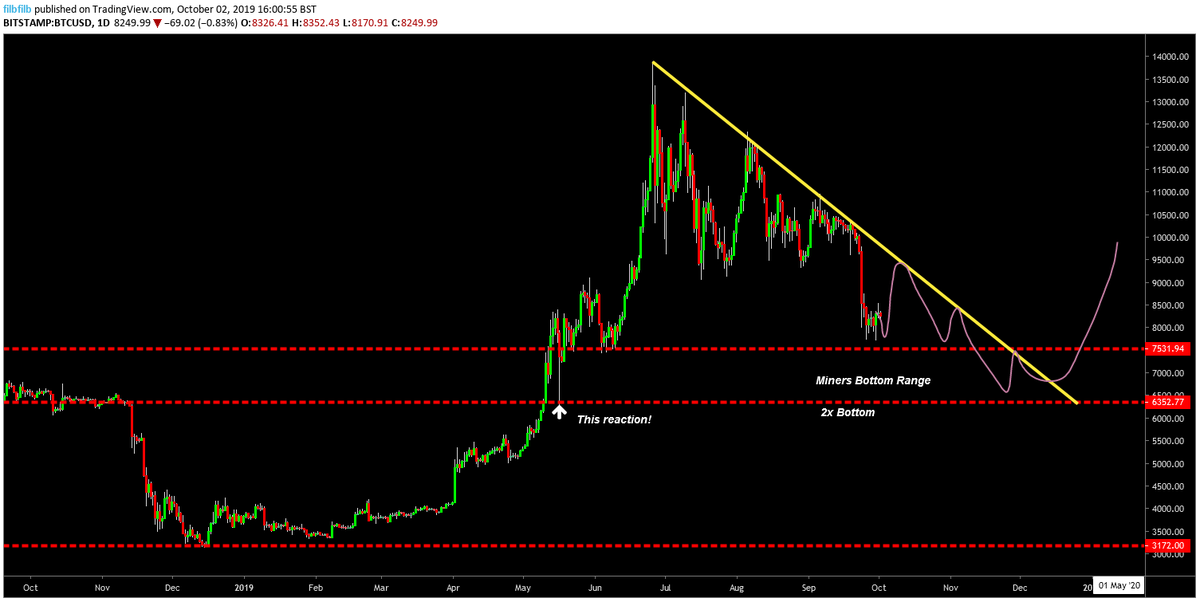 Not to mention, the same trader said in mid-2018 that he expected for Bitcoin to bottom around $3,000 at the end of the bear market. He was proven right when BTC fell to $3,150 on December 15th of that year, proving his eerie target issued months in advance.
Posted In: Bitcoin, Analysis