In December, analysts across the board were almost certain that Bitcoin was poised to fall to the $5,000s and maybe even lower; after surging to $14,000 by June 2019, the cryptocurrency had entered a steep downtrend, marked by successive lower lows and lower highs.
But, this changed at the turn of the year. After stalling in the low-$7,000s for a number of weeks, the price of BTC surged higher all through January, posting a 32 percent performance, ousting all other multi-billion-dollar assets, save for Tesla.
Analysts say that Bitcoin's jaw-dropping performance in January, which marked the asset's best January in seven years, is a precursor to a full-fledged reversal into a bull market. Here's more on that.
Bitcoin's January performance is a precursor to even greater things
On the night of Friday, the monthly price candle for Bitcoin closed, with it turning from January 31st to February 1st.
Trader CryptoBirb posted the below chart after Friday's candle close, showing that the performance of the leading cryptocurrency is January is likely a precursor to an even larger move higher.
Per the analyst, Bitcoin formed a "strong engulfing" candle in January, bouncing off a zone of high demand in the $6,000s. This, he claims, signifies there is "high time frame demand" for BTC. He added that with the candle closing above the three-month resistance of the $9,100 price point, an even larger bullish reversal is likely in store for the cryptocurrency market.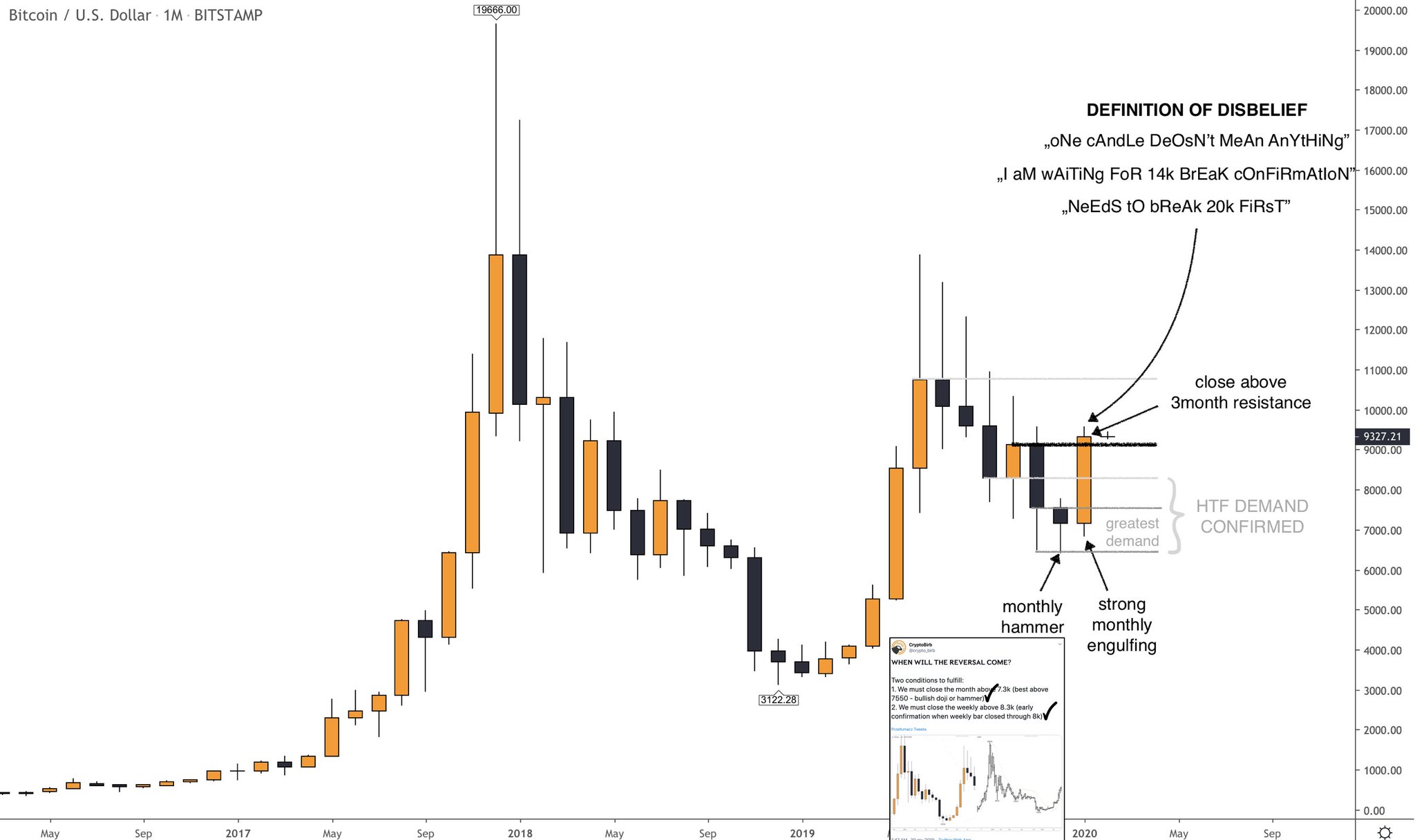 Smart Contracter, the trader who in the middle of 2018 called the $3,200 price bottom down to a 1 to 2 percent margin of error, echoed CryptoBirb's thoughts. He said that "you'd be bonkers to be macro bearish here," adding that the January candle was a "monster bullish engulfing" one.
In other words, January's 32 percent performance, analysts believe, decisively marked the end to the six-month downtrend that brought Bitcoin 50 percent lower.
An array of factors suggest price appreciation is imminent
Technical and fundamental analyses from some of the industry's most prominent commentators confirm that a further bullish reversal in the price of Bitcoin is but imminent.
According to cryptocurrency content creator The Moon, Bitcoin's hash rate "just hit" a new all-time high at over 123 exahashes per second.
This, he claims, is a clear sign that BTC is "screaming for a huge bull run leading into the halving," referencing the sentiment that Bitcoin will surge into and after the block reward reduction event, which will result in a 50% decrease in the asset's inflation.
Also, Fundstrat Global Advisors, a New York-based markets research firm, recently noted that Bitcoin's latest surge higher has allowed it to cross above the 200-day moving average. Firm co-founder Tom Lee wrote that whenever the price of Bitcoin is about the 200-day moving average, the six-month forward win rate for the cryptocurrency "jumps to 80%," "essentially [meaning BTC is] 're-entering' a bull market."
Bitcoin moved back above its 200-day moving average on 1/27… positive milestone and reinforcing 2020 shaping up to be great year for $BTC #bitcoin

– whenever BTC >200D, win-rate (6M forward) jumps to 80% and essentially "re-entering" bull market (>200D)#BTD #bestasset2020 pic.twitter.com/YbpQYHpLaj

— Thomas Lee (@fundstrat) January 29, 2020
Posted In: Bitcoin, Analysis