On 8 January, a day after the document is taken from the court, two plaintiffs sent a lawsuit against iFinex Inc., Bitfinex and Tether to another court. This lawsuit travels from Washington to New York, according to the Block.
Bitfinex Has Three Weighty Cases against Itself
The Western District Court in Washington gave the case back to Eric Young and Adam Kurtz, the crypto traders standing behind the third lawsuit against Tether. Despite yesterday's news, the lawsuit was filed again, this time with the addition of the new plaintiff – David Crystal. Also, the plaintiffs have moved the case away from Washington D.C. to the Southern District Court of New York.
Per Karen Lerner, one of the legal experts working on the case:
"Plaintiffs refiled the case to efficiently vindicate the rights of Bitcoin traders and Bitcoin futures traders."
Bitfinex was raising the community's suspicions since 2017 after analysts started suspecting them of price manipulations. Per some researchers, the Tether stablecoin pumped Bitcoin several times during 2017 and 2019 to manipulate the Bitcoin price. The defendants bumped the Bitcoin's price up, then cashed outta the market. Many of the crypto traders who lost money during the specific months in 2017 and 2019 want compensations and legal investigation.
Tether Says the Lawsuit is BS, Volumes Slowly Fall
The Tether representatives are so lazy that they post the same text on different websites twice, with only changing the company name. This way, and in many other ones, they are trying to show that they have no fear against the NYOAG allegations. And that the exchange management has 'vigorous' intent to win in all court cases.
Tether and Bitfinex were issuing documents denying all allegations since the beginning of the year 2019. However, this is not something that saved them time and money, and the users seem to be going away from the exchange. No wonder they have a 70% decrease in volumes, according to Nomics:
Strangely, Bitfinex is even buying the space ad from Russian news website Bitnovosti, despite its authors are pouring harsh criticism towards Tether for years: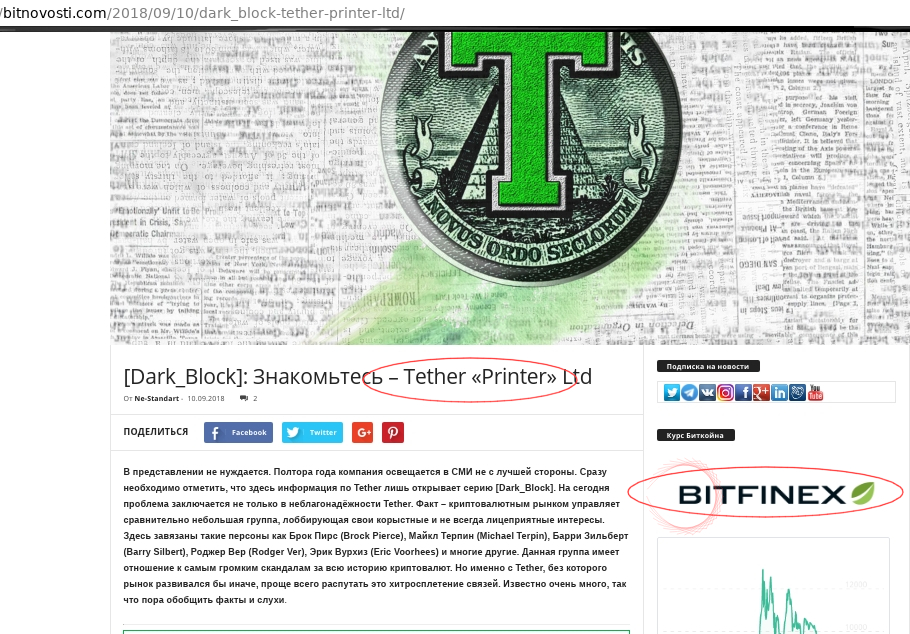 Fraud and Friendship with CCC, Poland Banks Put Bitfinex in Weak Position
Bitfinex claims no direct connections with Crypto Capital Co. (aka CCC), which is one of the most controversial companies in the crypto trading and mining fields. They also deny connections with the Colombian drug cartels via bank in Poland. No matter what is true, just check this carefully crafted list of all the parties affiliated with Crypto Capital and Bitfinex exchange services. You may find a ton of interesting information regarding this field's most famous functionaries, companies in the above document. Just Ctrl+F, then type any famous crypto name you know, and… Enjoy.

Author:
Jeff Fawkes
Jeff Fawkes is a seasoned investment professional and a crypto analyst covering the blockchain space. He has a dual degree in Business Administration and Creative Writing and is passionate when it comes to how technology impacts our society.