It's safe to say that Bitcoin, as well as the entire cryptocurrency market, were in for one wild ride in 2019. This is true in terms of price, but also for new developments, exciting events, important community positions, and so forth. 
A lot of people believe that 2019 was the preparation year for Bitcoin and other cryptocurrencies – the period during which digital assets could claim a higher ground and be more recognizable, especially for regulators across the world. And this is no doubt the case, even though this particular preparation period is probably far from being over. 
Let's walk through some of the most important things that happened in 2019. 
Bitcoin's Price: An Impressive Journey
The year started off quiet. Bitcoin was trading within a fairly narrow range between $3,500 and $4,000 throughout the first three months. However, when April came, things changed in favor of the bulls. 
At the beginning of April, Bitcoin's price jumped from around $4,000 to $4,900 and this set the course for one seriously wild journey. 
By the end of May, Bitcoin was trading at around $8,800 but at the beginning of June, it retraced back to $7,800, cooling off the raging bulls. The decline, however, was for not, because in the next month Bitcoin reached its yearly high at around $14,000. 
This is where the party stopped, though, as it has been downhill ever since. Something really interesting happened on October 25th. Bitcoin's price spiked with over 40% in less than 24 hours, marking its highest daily increase in years. In any case, the price retraced and started to crawl toward the lower side. 
At the time of this writing, Bitcoin is trading at around $7,300, which is still an impressive increase of almost 90% since January 1st. 
Altcoins Had It All Mixed Up in 2019
Besides Bitcoin, the remaining of the market also had a turbulent year, full of ups and downs. First things first, it's important to note that Bitcoin's dominance – the index that measures its total share of the market capitalization, increased substantially. Since January 1st, it's up more than 17%, currently sitting at around 68%. In other words, it's obvious that in 2019, Bitcoin has been crushing the altcoins. 
Ethereum failed to make any gains through 2019, as it is down about 7.5% since the beginning of the year. However, the most notable loser from the large-cap projects is Ripple (XRP). The price is down more than 46% since January 1st. 
There were altcoins which managed to increase a lot, nevertheless. Binance Coin (BNB) is up more than 127%, Tezos (XTZ) is up more than 190%, and so forth. 
Needless to say, altcoins are in a mixed state and we have yet to see when the next decisive altcoin season will take place. 
The Year In Review: 2019
Now that we have taken a look at the prices and how they performed throughout 2019, let's see what actually happened in terms of events and news. 
January: Birth Of The Initial Exchange Offering (IEO)
January was an interesting month. One of the more important things that happened was that VanEck and SolidX resubmitted their Bitcoin ETF application with the SEC. This brought new hopes that we might see the very first SEX-approved Bitcoin ETF but they were for not, as shortly after that, the application was withdrawn. 
Another substantial happening was the Initial Exchange Offering of BitTorrent, which ended in less than 15 seconds, raising more than $7 million. More importantly, however, this gave birth to a new trend that continues to date. IEOs have become a popular way of raising money. Binance Launchpad was the platform that kicked it all off, and then almost every major exchange created one on its own. 
February: It Was All About Institutions
In February, one of the world's largest international investment banks, JP Morgan, said that they will create their very own cryptocurrency called JPM Coin. Supposedly, it was supposed to settle the transactions between the clients of its wholesale payments business instantly. 
Additional adoption came from another institutional front as NASDAQ added the Bitcoin Liquid Index and the Ethereum Liquid Index to their trading services. 
Perhaps one of the most important things was the fact that the SEC clarified that the tokens which were sold in a functioning network weren't deemed securities. This had serious implications, especially as the year progressed and the SEC actually clamped down on quite a bit of projects for conducting unregistered securities sales.  
March: The Month of Altcoins
March was a month that saw the light of altcoins. Back then, Bitcoin recorded an 8-month low in terms of its dominance, as a lot of the altcoins started to flourish. Leading the march was Tezos. It charted gains upwards of 90% in a month and its value started to increase ever since, making it one of the best-performing assets throughout the entire year. 
On another note, however, San Francisco-based Bitwise Asset Management said that more than 95% of all Bitcoin trading volumes in the unregulated exchanges are made up. 
April: Start To Bitcoin's Bullish Journey
April is when the magic started happening in 2019. Bitcoin's price started to increase notably. Interestingly enough, though, it wasn't just Bitcoin that went up. Major stocks, as well as indices such as the S&P 500 also recorded new highs. 
However, the month was not without its fair share of controversy as well. The New York Attorney General obtained a court order against iFinex, the company owning the popular cryptocurrency exchange Bitfinex, as well as the most widely used stablecoin, Tether (USDT). The company was alleged that it had covered up $850 million. The official response was that the claims were written in bad faith. Still, it did add another bit of controversy to Tether's already scandalous past. 
May: It's (Almost) Over $9000!
May was a very special month for the cryptocurrency community. Craig Wright, who claimed that he is Satoshi Nakamoto, Bitcoin's creator, started throwing threats that he will sue anyone who speaks against this. He even filed a lawsuit against the popular cryptocurrency podcaster Peter McCormack. More interestingly, he threatened to sue one of the most vocal proponents of Bitcoin on Twitter, ''hodlnaut". 
In an act of support, the majority of the changed their twitter handles to "We Are Hodlnaut" and it really showed that they can unite around a common cause. 
Aside from that, May was really a transformational month for the price. It absolutely skyrocketed and what is more, the trading volume also went through the roof. In fact, Binance, recorded order volumes higher than those in the bull run of 2017. 
June: Climbing Peaks 
June was the peak of 2019 in terms of prices. Bitcoin hit $14,000 while the rest of the market also followed. Even though it has been downhill from there, June was undoubtedly a fruitful month.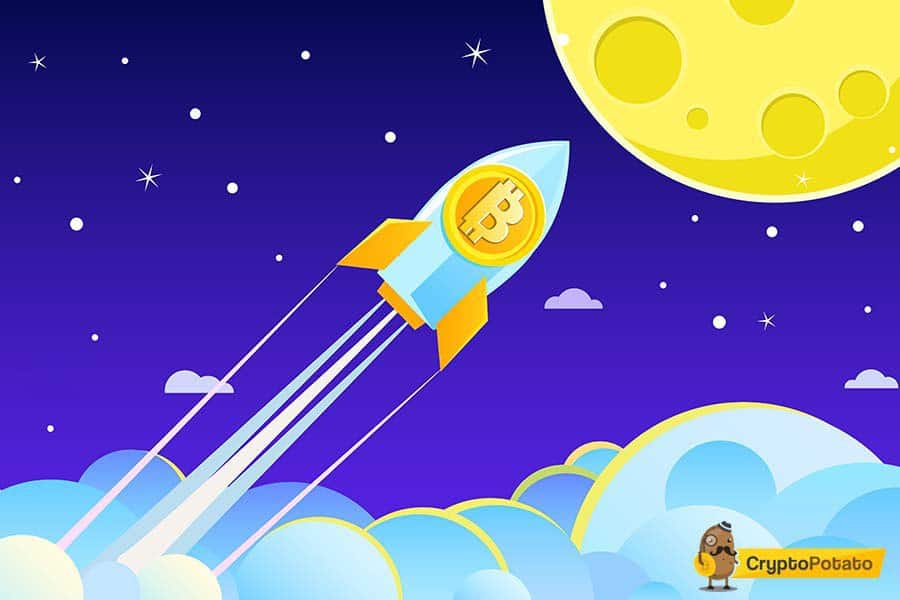 That's also when the Bitcoin derivatives trading market also started to take off. Binance, the world's leading cryptocurrency exchange, announced its plans to launch a Bitcoin futures trading platform where traders can use leverage of up to 100x. Eventually, this increased to 125x. 
Moreover, this is the time when talks about Facebook's long-awaited cryptocurrency project, Libra, started to escalate. It received mixed reactions from both community members and regulators across the world. While some were saying that it's a good thing that would bring more awareness to the cryptocurrency industry, others were bashing it for trying to underly traditional financial systems.
July: Regulators Speak Up
A few interesting things happened in July. First, the price started to plunge, hence marking the decline that Bitcoin went through until the end of the year. 
In any case, regulators were particularly vocal in July. Patrick McHenry, a US Congressman serving the 10th District of North Carolina, said that there's "absolutely no capacity to kill Bitcoin." Coming from a high-ranked official of the kind, this did sound quite the endorsement. What is more, David Marcus, the head of Facebook's Libra, appeared in front of Congress and this revealed a lot of the regulator's thoughts on cryptocurrencies in general.  
Also, news came from the UK that their Financial Conduct Authority (FCA), was looking for cryptocurrency experts to hire. Given that this is the country's governmental body that is responsible for regulating its financial markets, it's important to know that they are getting involved in the space. 
August: Issues Crawling Here And There
August was a tough month, especially for altcoins. Despite the fact that Bitcoin was losing its value as well, they failed to claim any grounds. Moreover, problems start to form surrounding Ethereum's network. The costs were spiraling up while the network itself was absolutely clogged, mostly by Tether. This left little to no room for developers. 
It seemed a lot like August was a waiting period for what was about to happen in September: one of the most anticipated events within the cryptocurrency community. 
September: Things Started Going South
There's absolutely no doubt that the most important thing that happened in September was the launch of Bakkt. This is the Bitcoin futures trading platform of the Intercontinental Exchange (ICE). The latter is the owner of the New York Stock Exchange and a lot of people thought that this is what would finally lead institutions to Bitcoin. 
Unfortunately, that wasn't really the case. Bakkt launched with negligible volume and the price actually tumbled quite a bit. Bitcoin lost a major chunk of its value. Towards the end of the month, it plunged from upwards of $10,000 to about $8,000. 
More positive institutional news came, though, as the second-largest German Stock Exchange launched a regulated bitcoin trading platform. Even though the price was declining, the network's metrics were just fine and it felt as if Bitcoin is getting more and more mature by the day.  
October: Mixed Feelings 
October was somewhat a landmark month for Bitcoin. Its whitepaper turned 11 years old which really helps put things in perspective. Despite the fact that it's only 10 years old, it seems as if Bitcoin has definitely come a long way. 
On another note, Bitcoin made one of the most impressive positive moves in its entire history. It skyrocketed 41% in less than 24 hours, bringing the bullish sentiment once again. The move followed an announcement from China's president, who urged the country to spend more effort into the development and deployment of blockchain-based technologies. 
Somewhat negative news came from the US SEC. The Commission halted Telegram's TON sale because it failed to comply with the requirement to register as a securities sale. This came soon after the SEC had penalized EOS for the same thing. 
November: Historically Volatile and Intense
A major development in November came from Germany. Arguably, one of the most substantial announcements was the fact that local banks might be able to start storing cryptocurrencies and introducing them to the general public. Needless to say, if this becomes a reality, it would be a tremendous step in terms of adoption. 
Another interesting thing was the fact that Bakkt's former CEO, Kelly Loeffler, was chosen to occupy a seat in the US Senate for the state of Georgia. This was also the month when Bakkt's volume started to pick up considerably, reaching new all-time highs regularly, indicating that institutional interest might be on the rise. 
November was a volatile month and there were substantial swings in either direction. This is true not only for Bitcoin but for the entire cryptocurrency market as well. 
December: A Month To Remember
Something particularly important happened in December. YouTube, the world's largest content-sharing platform, suddenly took a swing at cryptocurrency users and video-makers. It flagged a lot of their content, while also deleting some videos entirely. With this said, what's more important is that the community came together once again, with a lot of people showing their support. 
Perhaps the most important take out of this is that centralized platforms, as it's obvious, have the ability to entirely shut people off and, hence, cause a lot of problems. The decentralized nature of blockchain emphasizes its censorship-resistance, making things of the kind impossible. 
It's important to note, though, that another cryptocurrency was also shining, not only in December, but throughout the past few months, in general. That's Tezos (XTZ). It surged so much that it entered the top 10 cryptocurrency projects in terms of market capitalization. 
Conclusion
In retrospect, 2019 was definitely a great year not only for Bitcoin, but for the entire cryptocurrency market, in general. 
To cap it off, it's perhaps worth mentioning that since its first discovered price until now, Bitcoin has provided its investors a ROI of 8,900,000%. As this decade comes to an end, Bitcoin has managed to become the absolute best performing asset during the period. 
Enjoy reading? Please share:
Be the first to know about our price analysis, crypto news and trading tips: Follow us on Telegram or subscribe to our weekly newsletter.