Two of the most prominent analysts in the industry maintain that a multi-year support trendline could contain Bitcoin from a further drop. But, there is one popular chartist who believes that "multi-year straight lines and long term log charts do not mix too well."
The infamous support trendline
On Nov. 22, Tuur Demeester, a founding partner at Adamant Capital, pointed out that Bitcoin entered a parabolic advance in January 2015. Since then, he believes that the uptrend has remained intact since the flagship cryptocurrency continues to be held by it throughout the years.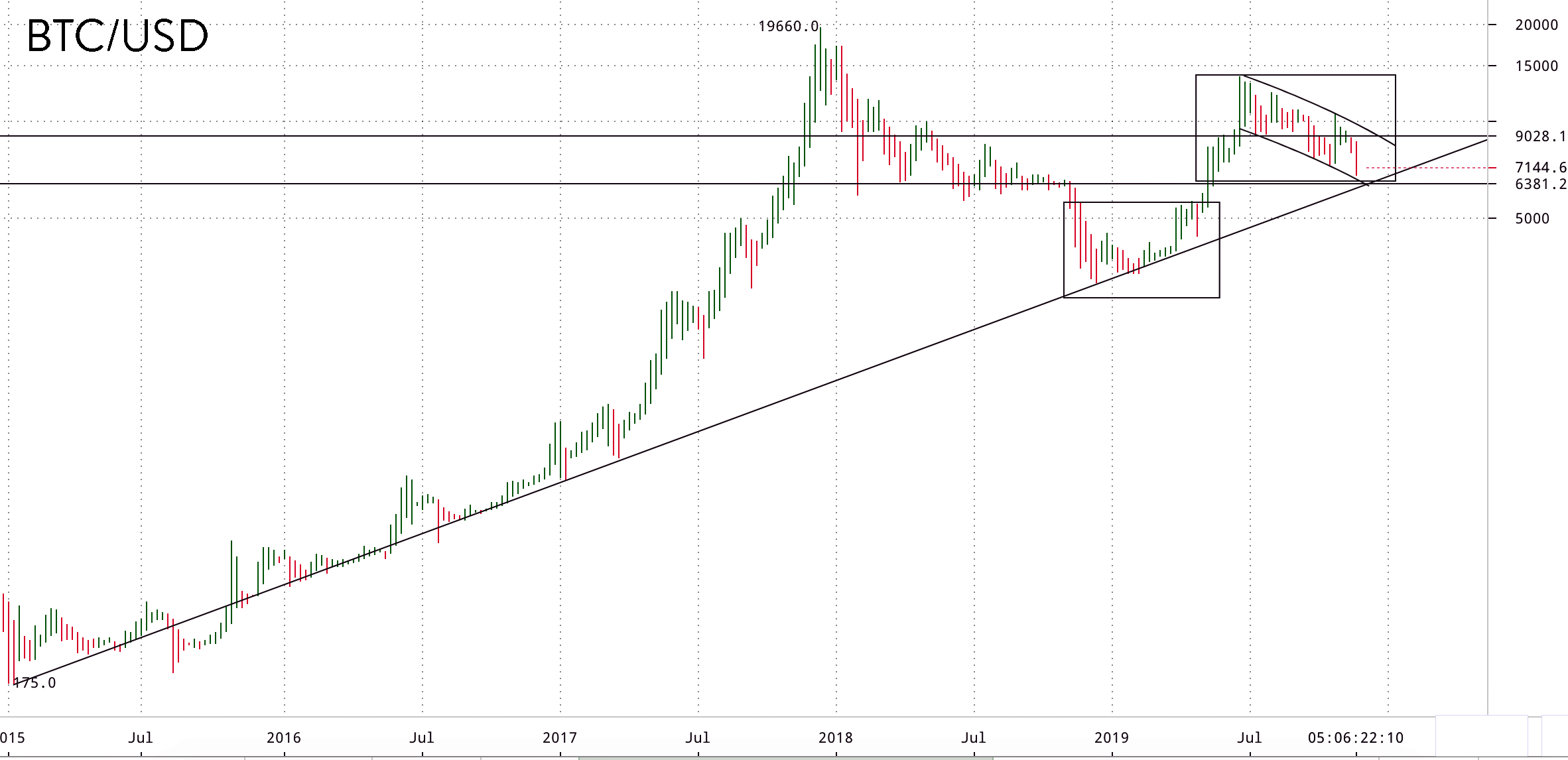 As BTC plunged to $6,480 on Nov. 18, Demeester noted that this multi-year support trendline was able to prevent this crypto from going lower.
Nevertheless, he emphasized that as Bitcoin "slowly approaches maturity/saturation," the uptrend will progressively slow down, which will result in the violation of the "parabolic trendline."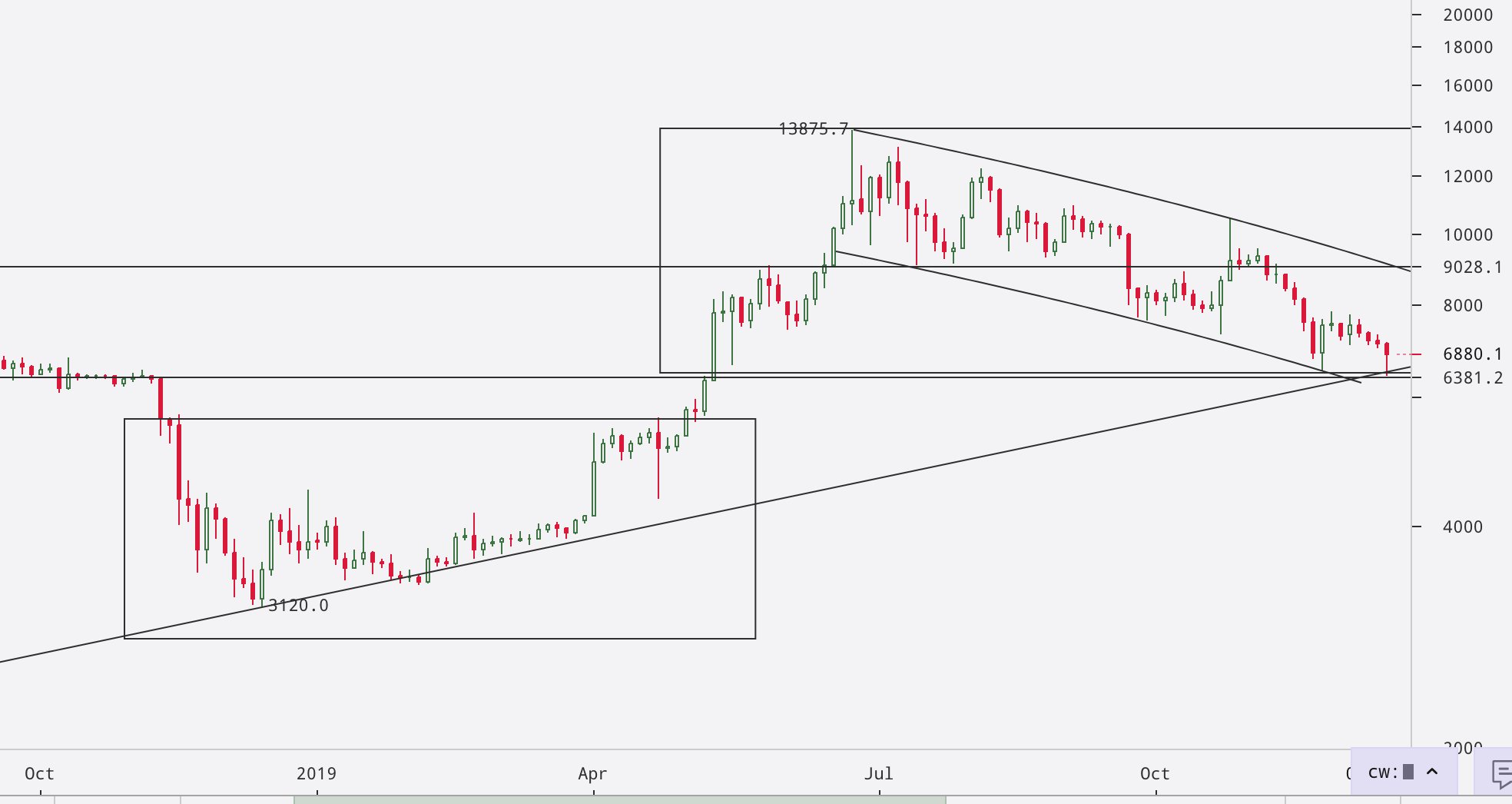 Along the same lines, Peter Brandt, a 45-years trading veteran, highlighted the significance of the support provided by this price level. According to Brandt, if Bitcoin can bounce off the support trendline, it could break out in an upward direction to begin a new parabolic phase. Such a bullish impulse would take it to "attack" the all-time high of 2017 and "slice" decisively through it.
Despite the bullish outlook, the analyst explained that if the trendline is not able to hold another downward move, Bitcoin would be bound for a further decline.
Brandt said:
"I think a prolonged journey below the line might be needed to thoroughly prepare BTC for the move to $50,000. The bulls must first be fully purged. When no bulls can be found on Twitter, then we will have a great buy signal."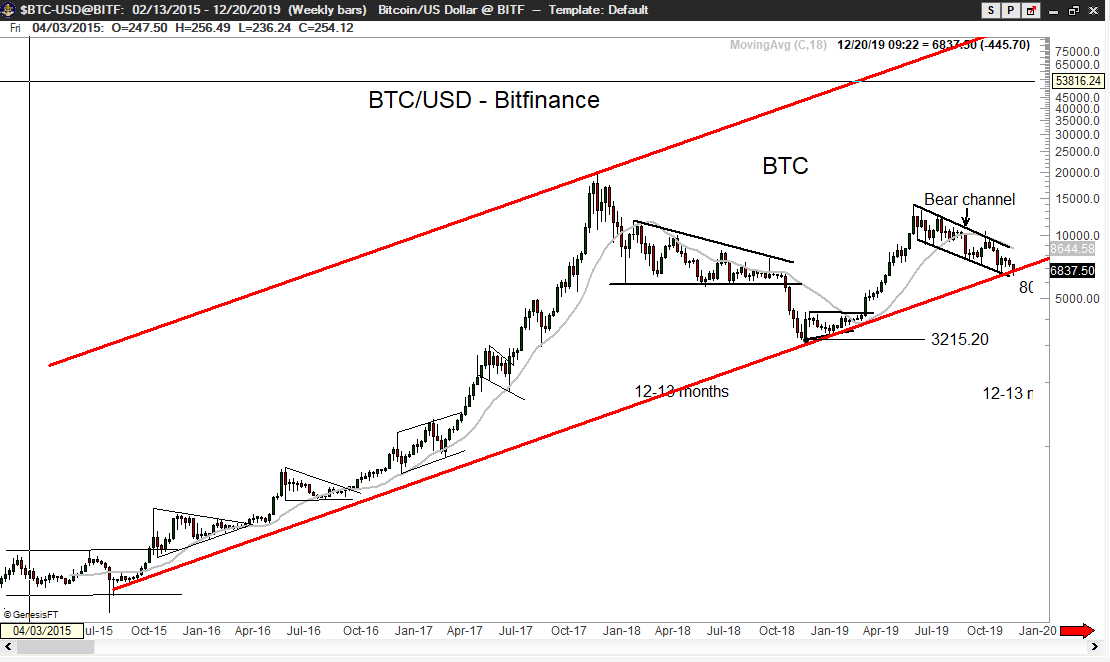 Trendlines are "destined to fail"
Despite the importance that Demeester and Brandt have placed on this support level, Dave the Wave, a technical analyst and Bitcoin investors, claims that multi-year trendlines serve "more as projections rather than support."
He argues that no so long ago, investors were putting a lot of weight on a support trendline that formed in early 2012, but after it failed, the focus shifted into a new one.
Dave the Wave affirmed:
"[The new] multi-year straight line on a log chart, whether called a 'parabolic uptrend' or a long-term trendline, is destined to fail."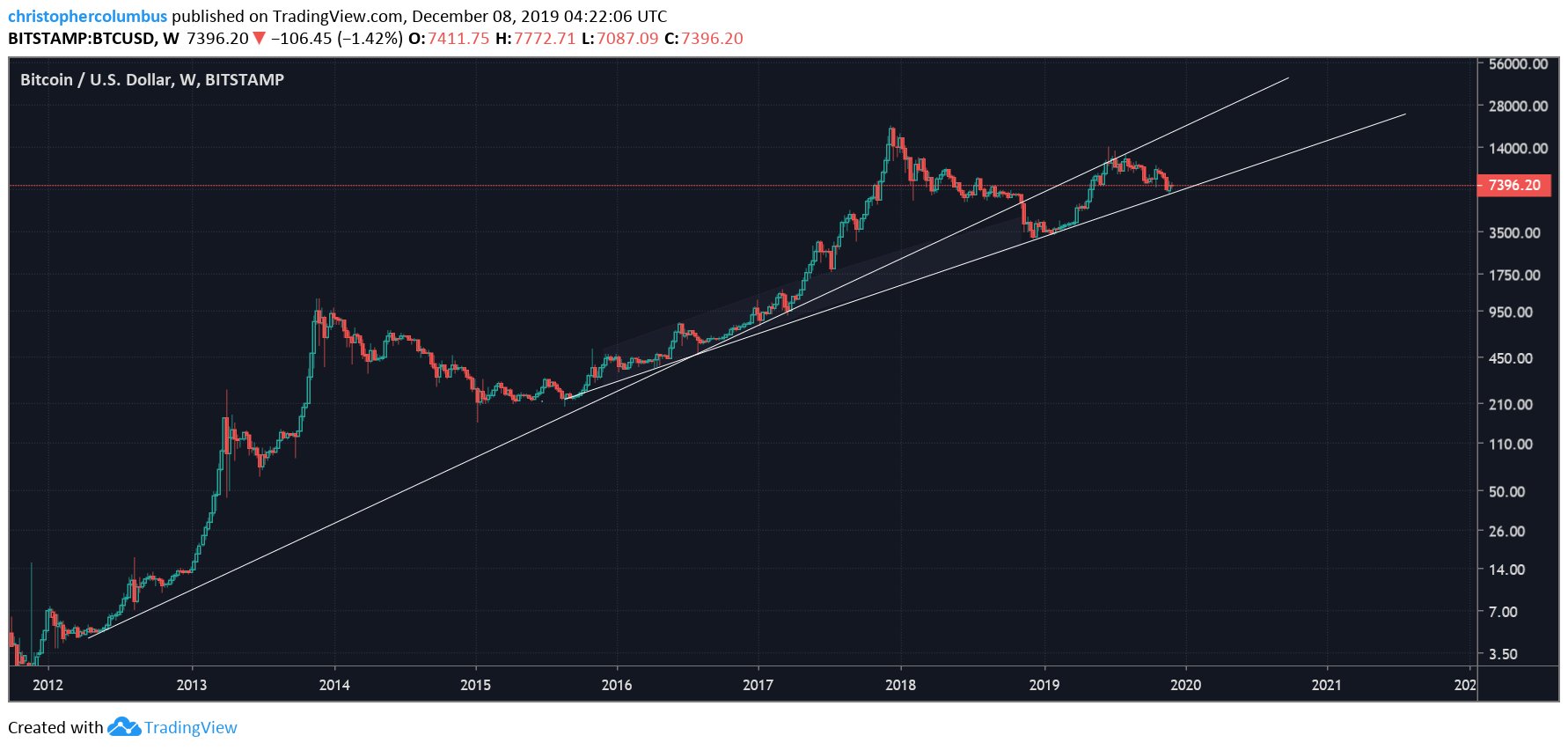 Although this analyst dismisses the level of support that trendlines can provide, he relies on a "greater cyclical curve" that is forming since Bitcoin was launched. Under this premise, the pioneer cryptocurrency could have more legs down to go before marking the bottom of its bearish trend.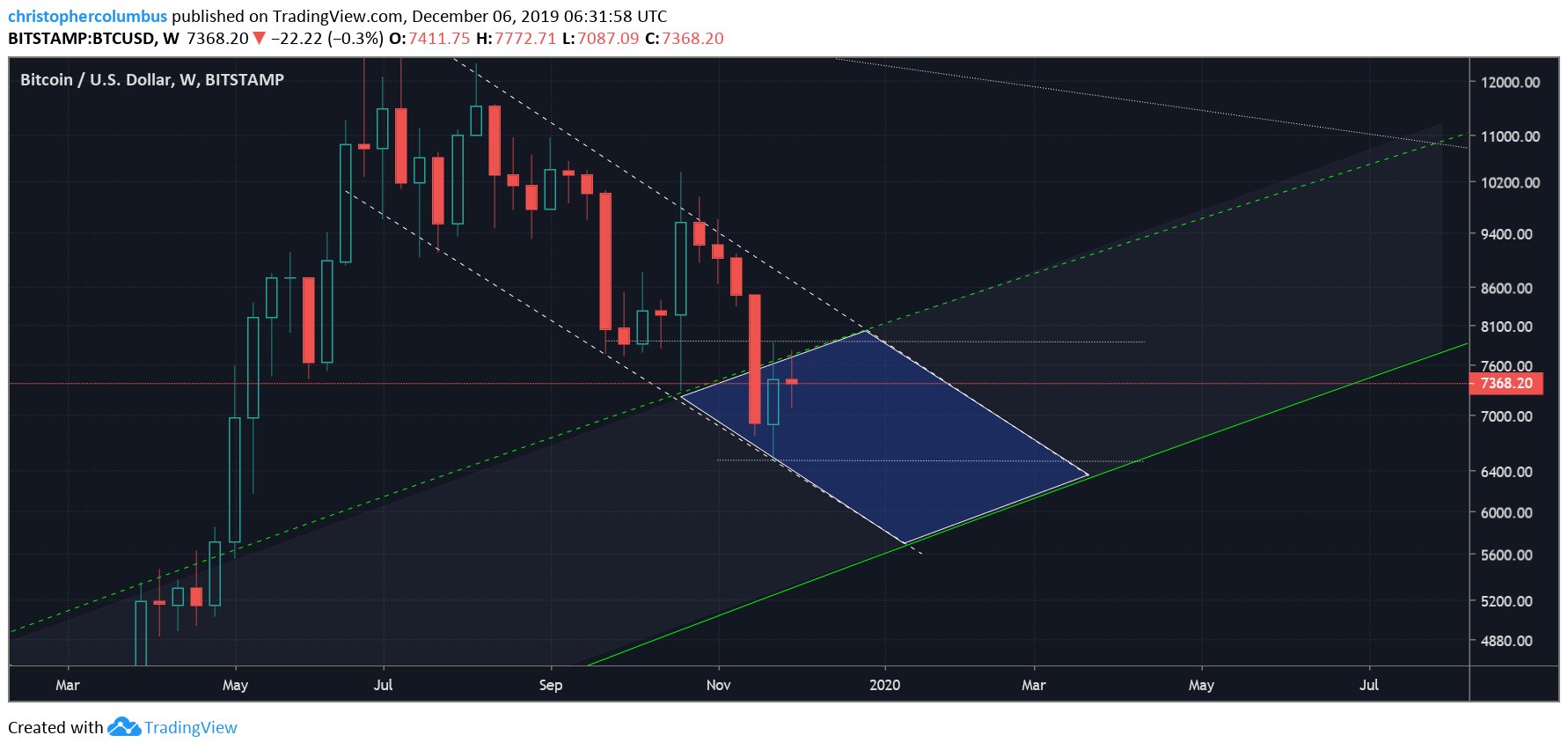 Moving forward
Multiple analysts have come out to support the idea that the current price levels present an excellent opportunity to accumulate Bitcoin. Meanwhile, others have argued that this cryptocurrency could be bottoming out. The different perspectives can be felt throughout the entire market, leading one to believe that nobody knows where BTC is heading. Time will tell whether the flagship cryptocurrency is poised for higher highs or lower lows.
Bitcoin, currently ranked #1 by market cap, is up 5.51% over the past 24 hours. BTC has a market cap of $137.5B with a 24 hour volume of $25.55B.
Chart by CryptoCompare
Posted In: Bitcoin, Analysis, Price Watch