Binance, one of the largest cryptocurrency exchanges in the world, made a strategic investment in the crypto derivatives trading platform FTX. The firms have combined trading volumes in their Bitcoin futures markets that surpass $1 billion on a regular basis, according to Skew.
Binance and FTX join forces
Binance is expanding its reach throughout the cryptocurrency industry by adding another firm to the pool of investments it has made this year. This time, the Malta-based cryptocurrency-trading platform purchased equity worth "tens of millions" in FTX, a crypto derivatives exchange incubated by Alameda Research.
Changpeng Zhao, founder and CEO of Binance, said:
"The derivatives space for crypto is very new, and we want to support multiple initiatives to grow the industry…The FTX team has built an innovative crypto trading platform with stunning growth. With their backgrounds as professional traders, we see quite a bit ourselves in the FTX team and believe in their potential in becoming a major player in the crypto derivatives markets."
Binance now holds a "double-digit" percentage of all equities in the San-Francisco based exchange. Meanwhile, Sam Bankman-Fried, founder and CEO of FTX, remains the majority owner.
Bankman-Fried added:
"The investment will help accelerate the growth of FTX with support and strategic advisory from Binance while FTX maintains its independent operations… As we think down the road about a number of tokenizing projects that FTX is developing, having Binance as a partner will be super powerful."
By joining forces, the companies will be able to capture a significant stake in Bitcoin futures markets.
$1 billion of trading volume combined
Skew, one of the leading data analytics provider in the industry, revealed that the deal between Binance and FTX brings together two companies that combined have a trading volume of over $1 billion. Binance has seen its Bitcoin futures markets hit an all-time high volume of $2.5 billion while FTX reached $750 million in late September.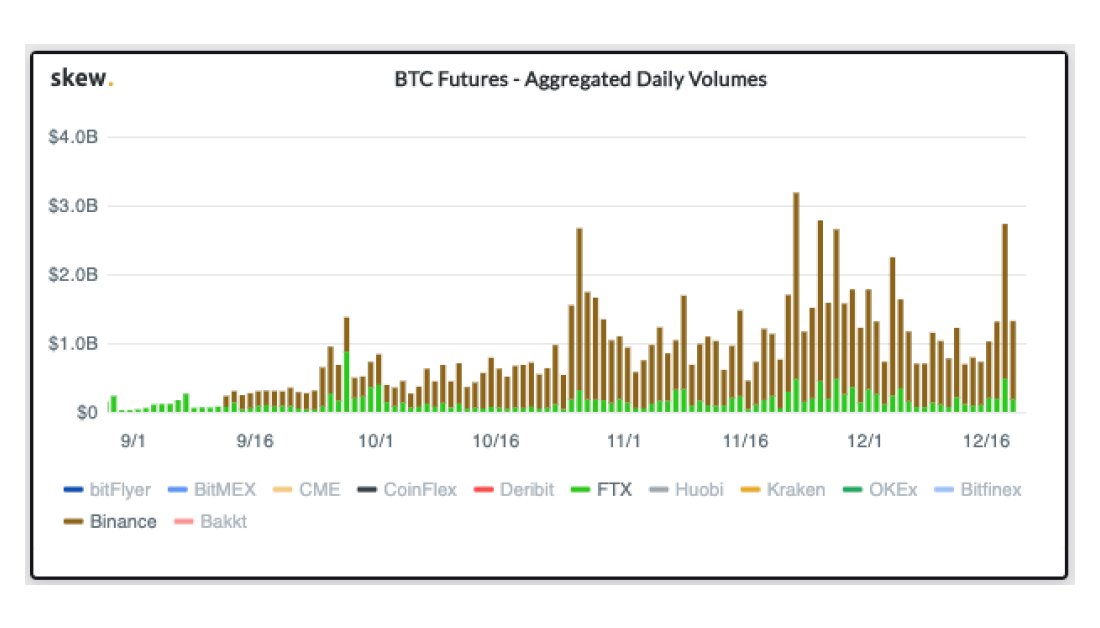 According to Skew, the most astonishing thing about these numbers is that the futures markets of these companies "didn't even exist at the start of the year." Now, the two exchanges occupy the second and third spot in most liquid exchanges when measured by order book depth.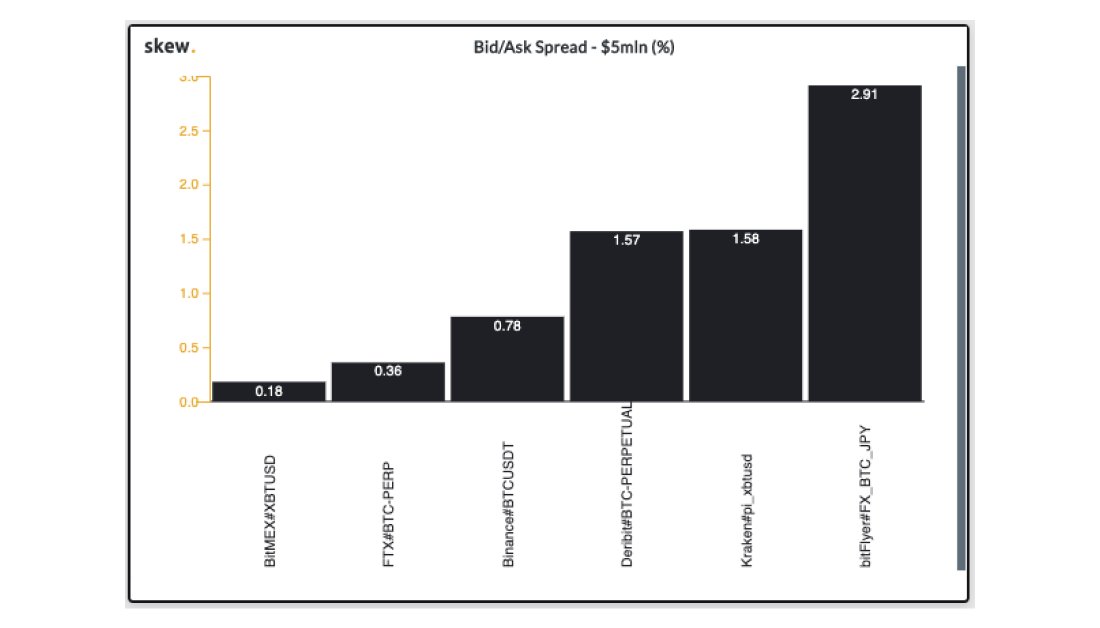 Time will tell whether Binance and FTX will become a threat to BitMEX, which is the most liquid crypto derivatives exchange in the industry.
Posted In: Binance, Analysis
Like what you see? Subscribe to CryptoSlate
Get our daily newsletter containing the top blockchain stories and crypto analysis straight to your inbox.
Sign up to stay informed
After Ali began forex trading in 2012 In 2014, he came across Bitcoin's whitepaper and was so fascinated by the idea of a decentralized, borderless, and censorship-resistant currency that he started buying Bitcoin. By 2015, he started traveling to spread the word about Bitcoin.
View author profile
Commitment to Transparency: The author of this article is invested and/or has an interest in one or more assets discussed in this post. CryptoSlate does not endorse any project or asset that may be mentioned or linked to in this article. Please take that into consideration when evaluating the content within this article.
Disclaimer: Our writers' opinions are solely their own and do not reflect the opinion of CryptoSlate. None of the information you read on CryptoSlate should be taken as investment advice, nor does CryptoSlate endorse any project that may be mentioned or linked to in this article. Buying and trading cryptocurrencies should be considered a high-risk activity. Please do your own due diligence before taking any action related to content within this article. Finally, CryptoSlate takes no responsibility should you lose money trading cryptocurrencies.